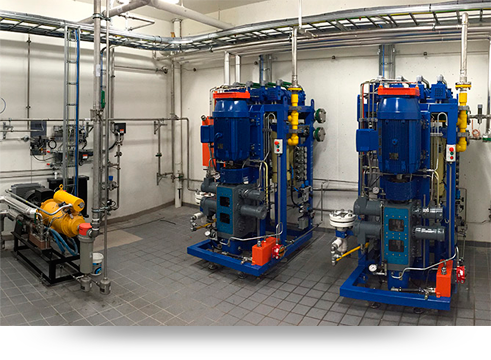 Through the commissioning of two Nanobox® compressors at the service of Hias IKS, an intermunicipal water, sewage and sanitation company, Galileo Technologies is involved in one of the most ambitious Waste-To-Energy projects in Norway.
Both Nanobox units were installed at the Hias IKS waste recycling facility located in Hamar to produce Compressed Biogas (CBG) by utilizing the biogas originated in the sewage sludge during the wastewater treatment process.
"The new fuel will be used for filling the tanks of natural gas vehicles (NGVs), widening the scope of environmental solutions provided by Hias IKS to service the almost 90 thousand residents in the municipalities of Hamar, Løten, Stange, and Ringsaker," said Kim Otto Lund Thunbo, Project Manager at Nærenergi, Galileo´s local distribution company, responsible for the project's overall engineering.
"In the first stage of the process, the biogas passes through an amin-scrubber system, which removes the carbon dioxide (CO2) and hydrogen sulfide (H2S) contents. Then, the clean biogas is sent to two rotary vane compressors, which compress it to 7-12 bar (101.5-174 psi). After this first compression stage, the biogas is dried, analyzed and sent to the Nanobox units for further compression to 250 bar (3625 psi)," Lund Thunbo explained.
For this innovative application, the Nanobox compressors designed for this project included several customized features to enhance energy savings and reduce emissions through greater efficiency. "As biogas' flow fluctuates between 65 and 165 normal cubic meters (Nm3/h) [232-589 gasoline gallon equivalents per hour (GGE/h)], both units work with a variable inlet pressure and are equipped with an inverter to provide a wide turn-down ratio. In addition, they have water/gas heat exchangers to recover the waste heat, which is in turn harnessed by a large cooling circuit connected to the heat pumps of the Hias IKS wastewater cleaning plant, Lund Thunbo clarified.
The profits obtained through filling NGVs will help Hias IKS to reduce the cost of treatment of wastewater from the municipalities which own the company. This is also beneficial for the ratepayers, who will then pay less for wastewater treatment.
Due to the positive impact on ordinary people's life, the development of competitive advantages and the boost in innovation, this endeavor is supported by the Norwegian government's organization Innovation Norway (Innovation Norge) as a Public Research and Development Project.
Are you interested in our services
and want to communicate with us?